President Ron RobinUniversity of Haifa President
THE MULTIVERSITY MISSION:
The University of Haifa "in and of" the City and the northern region
>>fostering synergies across academic units and with local communities and partners
>>identifying and meeting future human needs and global challenges
>>facilitating an inspirational setting for teaching, learning and discovery
>>supporting an extended physical presence in multiple strategic sites
Home to over 18,000 students from a wide range of ethnic and socio-economic backgrounds, the University of Haifa is the largest comprehensive research university in northern Israel, and the most pluralistic institution of higher education in Israel. Here, Jews, Arabs, Druze, Haredi and secular students, new immigrants, and military and security personnel come together to study, teach and learn.
Since its establishment 47 years ago, the University has developed into a world-class academic institution with an international reputation in a variety of fields, including marine sciences, public health, law, security studies, holocaust research, cancer research, neuro-sciences, bioinformatics, and education. In the rapidly changing landscape of higher education, which calls for the expansion of knowledge in the life sciences and engineering, it is critical that we extend and develop our offerings in these fields, while embracing digital technology changes that will define tomorrow's professional, social, and economic world.
As part of our strategic plan for establishing the 'Multiversity', we are laying the physical and virtual groundwork required to create a university with an extended physical presence across multiple sites in the City of Haifa and the Galilee.
The 'Multiversity'

The Multiversity is a diverse network, for discovery, economic expansion and social mobility. It is designed to improve interaction between disciplines, broaden access to higher education, and foster collaboration between academia and diverse partners. Through its framework, we can define ourselves by who and what we include, and not by who and what we exclude.
Anchored in multiple "portal campuses", strategically situated near sites of cutting-edge economic activity, the Multiversity allows faculty and students to enrich their research and learning via a presence in key places of change without compromising connectivity to the rest of the University.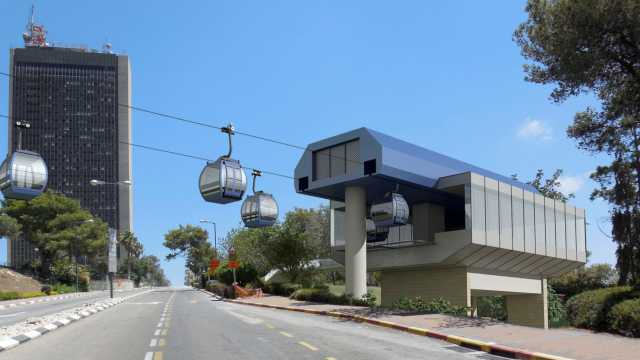 A rendering of the future cable car campus stop, linking the University to theTechnion - Israel Institute of Technology and the Lev Hamifratz Transportation Terminal.
We are well on our way…
By 2025, the Multiversity of Haifa will leverage its location by creating a network of inter-related specialized portals: the Mt. Carmel Campus (the main campus and administrative and academic headquarters); the Lorry I. Lokey City Campus (School of Data Sciences); the Marine Sciences Campus (centralizing all oceanographic research and teaching); the Medical Science Campus (at the Helmsley Health Discovery Tower, a joint venture with Rambam); the Engineering Campus in Karmiel; and the Joint Technological Institute at East China Normal University (ECNU) in Shanghai.
We are confident that this network will upgrade and increase student recruitment, transform our academic footprint and interface with the social and economic ecosystems through mutually beneficial partnerships. This is our strategy for creating synergies and significantly enhancing our local, national and international impact.
Today, in the "Glocal" era, we create a new "sense of place" and gain new notions of identity and belonging. In offering these multidisciplinary and multi-spatial solutions for the future, we seek to seize the moment with both humility and daring.
That said, we are well aware that such profound changes carry a great deal of responsibility, as well as multiple challenges. In order to implement the vision of the Multiversity, major steps have and will be taken in the near future. This can, and will only, be done with the approval and full support of the University's governing bodies, whose input and advice are critical for the success of the forthcoming transformation.
This year, we expect to reach an all-time fundraising record. We see this accomplishment as an indication of trust and faith on behalf of our donors and partners that we are indeed on our way to a better tomorrow. We are working hard to ensure that this is an ongoing positive development. Please join us on this exciting journey.