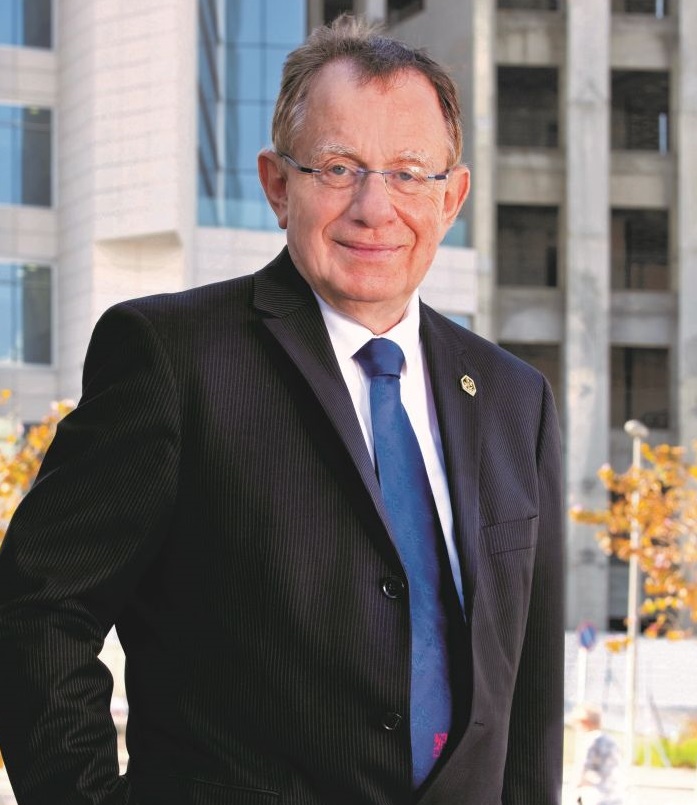 Prof. Raphael BeyarPhoto:
Miki Koren
University of Haifa and Rambam join forces to
propel Israel's budding life sciences industry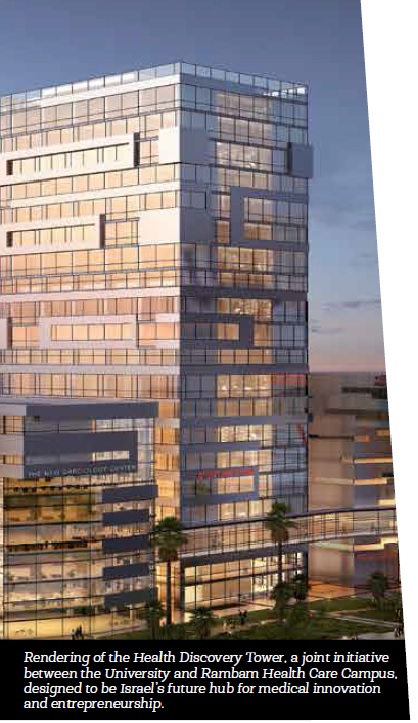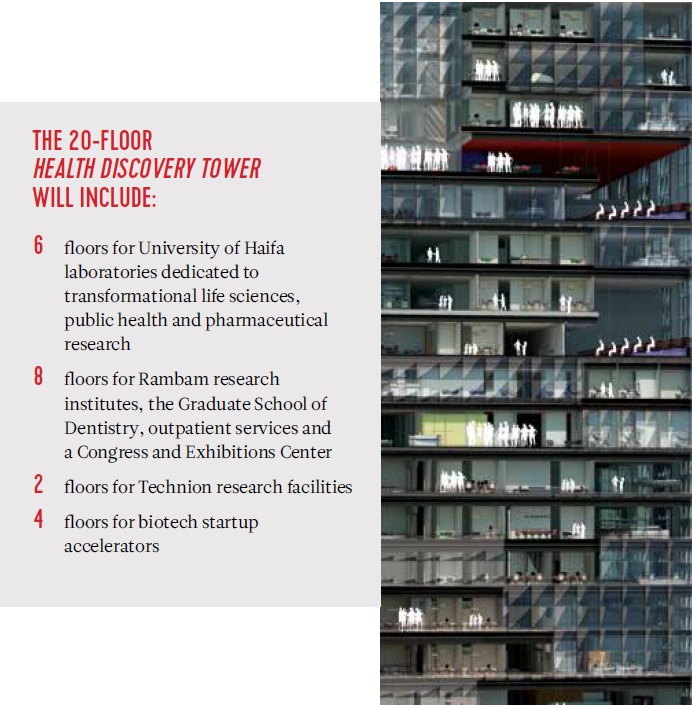 Renderings:
Mochly-Eldar Architects
General Director and CEO of Rambam Health Care Campus, Prof. Rafael Beyar is a renowned cardiologist,
medical professor and biomedical entrepreneur. For over a decade he has successfully led Rambam hospital,
recognized worldwide for its exceptional patient care. Beyar signed a historic agreement in April with President
Ron Robin to establish a joint center for innovation and translational research and for combining patient-centered
technology and humanity – the Health Discovery Tower.

Why is Rambam investing in a Health Discovery Tower?
R.B. - Medicine today is increasingly driven by technology. At the same time, we understand that treating the human condition is a multidisciplinary undertaking which involves all aspects of the medical and allied health sciences. The Health Discovery Tower will bring together under one roof health and medical researchers, clinicians and biomedical entrepreneurs to promote learning and advance medical therapies, diagnostic tools and patient care. It will house innovation laboratories alongside facilities for basic research related to clinical, public health and health services. The Tower will pool the talented resources from Haifa's renowned institutes – the University of Haifa, Rambam and the Technion-Israel Institute of Technology, and serve as a unique model worldwide for knowledge translation, exchange, and transfer. Its location on the Rambam Health Care Campus – adjacent to outpatient clinics, a faculty of medicine, children's hospital, oncology center, heart hospital and advanced clinical resources – will further expedite innovation in the life sciences industry.
What makes the University of Haifa an attractive partner for this venture?
R.B. - The University of Haifa is the largest research university in the northern region, with a strong foothold in health-related fields. It is widely recognized as a leader in public health, cancer research, neurosciences, bioinformatics and epigenetics research. As Israel's largest academic research hospital in the northern region, Rambam already boasts a long-standing synergy with the University's Cheryl Spencer Department of Nursing and School of Public Health. The Health Discovery Tower will further strengthen these ties and fortify our mission of delivering exceptional patient care, medical education and cutting-edge research.
"By merging health research with patient-centered medical services under one roof we will create an environment
primed for excellence in the development of therapies and diagnostic tools that will change the face of healthcare
in hospitals, doctors' offices, and homes worldwide."
-Prof. Rafael Beyar
What will be some of the initial areas of collaboration?
R.B. - Rambam and the University of Haifa are already working closely on a number of collaborative projects. A team of physicians, researchers and clinicians are using fMRI brain imaging to advance our understanding of chronic pain and improve motor recovery of stroke patients. In addition, Rambam's Department of Otolaryngology and Head and Neck surgery is partnering with the University's School of Public Health to streamline patient-centered health delivery and close critical gaps in socioeconomic health disparities (read article here). In recent years joint teams from Rambam and the University have hosted dozens of delegations from the US, Canada, China, India, Africa and South America, who come to learn from the hospital's successful patient care delivery system and Israel's advanced health economic model.
How will the average healthcare consumer benefit from medical advances born here?
R.B. - Collaborative research at the Health Discovery Tower will accelerate patient-oriented research and innovative interventions for specific diseases and unmet clinical needs. Israel is already an international leader in medical breakthroughs in central disciplines such as cardiovascular medicine, orthopedics, ophthalmology, and inpatient centered digital health, and has earned a reputation for its budding life sciences industry. The shared R&D environment will undoubtedly lead to improved services and technologies and dramatic advances in personalized medicine. In addition to scientific gains and health benefits, I believe this joint venture will also have a broad educational, economic and social impact for the region and future generations.