Digital technology is transforming not only the way we learn, but the learning environment itself. A national initiative investigating how to best prepare students for lifelong learning in today's information-based, networked society is being led by the Faculty of Education.
Young students today have access to a world of information in the palm of their hands. From breaking news to expert opinions, they can publish their ideas and connect with peers, wherever and whenever. As a result, educational researchers are rethinking the structure and design of schools to support learning in a way that extends beyond the walls of the classroom.
The University of Haifa is playing an important role in determining how the classrooms of the future will look. "Planning learning spaces is both a theoretical and practical challenge," explains Prof. Yael Kali, an international expert in educational technology (EdTech) and head of the Israeli Center of Research Excellence on Learning In a NetworKed Society (LINKS I-CORE).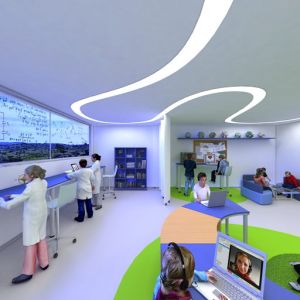 A partnership between the University of Haifa and Jewish educational NGO, World ORT,is underway to scale up 200 Future Learning Spaces in schools across northern Israeland the Negev as part of ORT's Science Journey program.
"Until now, many educational reforms have taken a technologically- focused approach, with a lot of hype over the incorporation of computers and mobile telephones in schools. Despite the introduction of technology, traditional teaching and learning approaches have remained the same. Our approach to future learning spaces integrates pedagogy, technology and space as inseparable elements in the design of learning environments that facilitate student learning and growth."
As part of the LINKS initiative, LINKS I-CORE has recently inaugurated a state-of-the-art facility at the University called "Future Learning Spaces" (FLSs). The FLSs are fitted with modern technologies and mobile furniture that enables students to interact in small and large groups, while working seamlessly between on and offline spaces.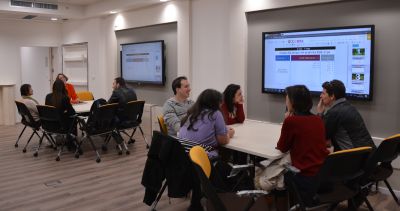 Future Learning Spaces facilitate the shift of learning responsibility to the learner, placing the technologies
in the hands of the students instead of the teachers.
Mobile classroom infrastructure allows students to seamlessly move between online and virtual spaces,
promoting collaborative learning, and breaking traditional classroom norms.
EdTech researchers, Prof. Dani Ben-Zvi and Dr. Yotam Hod of the Faculty of Education, are using this model to study the way students engage in the complex thinking and meaningful learning necessary for the 21st century. In addition, the FLSs serve as a laboratory for teachers – fostering changes that have ripple effects in the schools and communities where they teach.
"While we see our research benefiting all students," notes Prof. Tamar Weiss, a leading Israeli researcher of virtual reality technology and member of the LINKS board, "we are allocating resources to community outreach that will directly impact youth in both periphery communities and in different populations, from those in underserved settings to individuals with learning disabilities." Prof. Weiss heads the Laboratory for Innovations in Rehabilitation Technology at the University of Haifa.