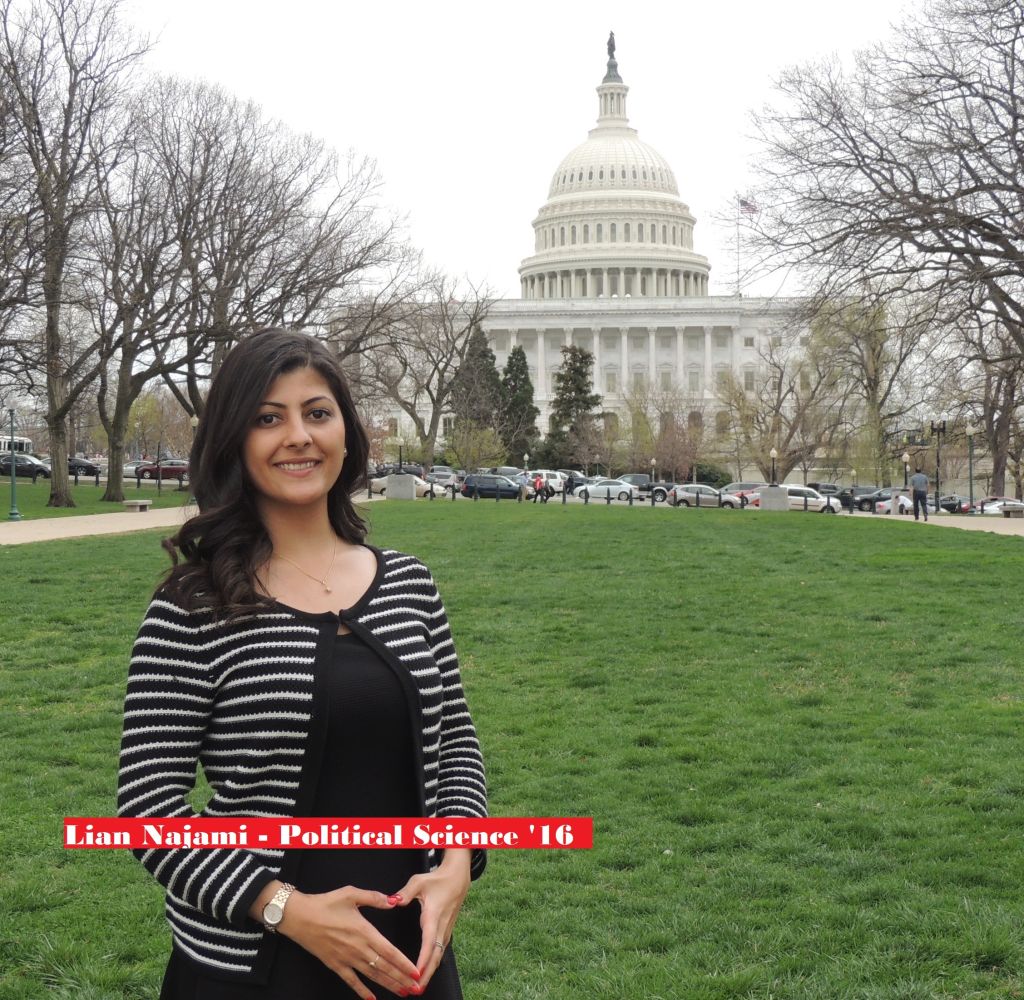 She's only 22

, but Lian Najami has already accomplished more than many
people achieve in a lifetime. At the age of 12, she began volunteering at her
local community center and by her 15th birthday she founded her first start-up.
Fluent in five languages, Lian was recently a featured speaker at the Forbes Israel
30 Under 30 Summit. Currently a Congressional Fellow in the US Senate and a
regular spokesperson for Israel on US campuses, she dreams of contributing
to regional peace through an innovative social start-up.
Why did you choose to study at the University of Haifa?
L.N. - I grew up in the culturally mixed Haifa neighborhood of Ein Hayam. My best friend, Rita, was a Russian Jew. At a young age,
I started volunteering at our neighborhood community center and was impressed by the number of University of Haifa students
involved in community engagement projects. This spirit of volunteerism motivated me to become part of such an embracing
community. I also chose the University because its School of Political Science is considered the best in Israel.
Fondest memories at the University of Haifa
L.N. - I focused on American politics and had the opportunity to study with some of the leading experts in Israel, including
Dr. Israel Waismel-Manor. I qualified to fast track my degree and was honored to serve as a teaching assistant during my
senior year. Many of the students were my age or older! I am very grateful for the faith my professors placed in me.
Today, as a congressional fellow in the US Senate, I feel well prepared to take in the intricate web of American politics.
How did you end up in the US Senate?
L.N. - A number of related events led to the fellowship placement. Last year, Forbes invited me to speak at the Forbes Israel
30 Under 30 Summit about my experiences as a young entrepreneur in Junior Achievement Worldwide's Young Entrepreneurs
Program. Being a featured speaker provided me with plenty of networking opportunities. After the Summit, I received the
Lantos-Humanity in Action Congressional Fellowship. The fellowship brings together students from around the world to intern
at the US Congress. Today I am working with Senator Brian Schatz from the State of Hawaii on foreign policy. The work is
dynamic and very challenging. It has been a thrill to be able to sit in on congressional hearings!
How did you become involved in public speaking and Israel advocacy?
L.N. - I was first asked to speak to international delegations as a high schooler at Leo Baeck's youth and co-existence projects.
Since then I have spoken at the University of Haifa's 40th Board of Governors Meeting, and at functions organized by Combined
Jewish Philanthropies (CJP) and Israel Campus Roundtables at campuses across the Boston area, including Williams College,
Tufts University, UMass Amherst, Suffolk University, Harvard Kennedy School, Northeastern University, and Wellesley College.
These events enabled me to reach out to students who have no connection to Israeli or Palestinian issues, yet think they must
take a side. I try to explain that the reality is very complex. As an Arab Israeli, I tell them that they can be both pro-Israel and
pro-Palestinian.
What are some of the myths you have encountered about Israel?
L.N. - A large number of people are ignorant about the non-Jewish community living in Israel, which comprises 25% of the population.
I try to raise awareness about this demographic reality. The Boycott Divestment and Sanctions (BDS) movement claims that it is
helping Palestinians and Arab Israelis. I say 'thanks, but no thanks.' What BDS is actually doing is simultaneously damaging
Israel and Palestine, and when you harm Israel, you are hurting all of its citizens. Israel has done nothing but help shape the strong
person I am and provided me with the help I needed to fully succeed in the Middle East and in life.
What are your plans for the future?
L.N. - I will be moving to Boston in the summer to take part in the 'Our Generation Speaks' fellowship program at Brandeis University's
Heller School in partnership with MassChallenge. 'Our Generation Speaks' brings together young Israeli and Palestinian change agents
who look to build shared prosperity for the region. At the end of the fellowship, we will launch a social start-up, which I plan to develop
and expand. I also intend to keep on raising awareness about minority groups in Israel and bring my different perspective of Israel as
a non-Jew living in the Jewish State to the international community through speaking tours in different countries.
Lian graduated in 2016. In addition to being an outstanding
scholar she was also active in the Jewish-Arab Community
Leadership Program, a flagship project established by the
German Friends the University of Haifa.
A life-size poster of Lian used in last year's undergraduate open-house campaign featuring the University's top achievers and innovators.